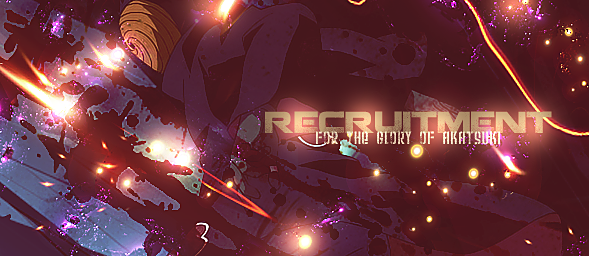 Akatsuki has produced most of the prolific personalities on the NA, SA and WoN gaming circuits, members and ex-members alike. The clan thrives on unprecedented history, pioneering the clan landscape, as well as indirectly responsible for the inception of more known clans. The clan has suffered several downfalls, but flourished in resolve as we continue to exist in the shadows. Much ado to this, we have decided that it is due to break free from the anonymity and beyond.
The winds of change has finally come, calling out for the new generation to step forth and dominate under the flag of Akatsuki. This is when you come in, yes you potential Akatsuki member! These are new times, and with new times calls for the new faces of Akatsuki. Not everyone has what it takes though, for an Akatsuki member puts loyalty above all, with a side of skill and a charming personality. So! the question is, do YOU have the potential of being one of us?
The first step is to fill this application. Akatsuki members will look over all applications so dont fret. You will then be contacted by an Akatsuki Agent telling you that you may proceed to the next stage, assuming we were impressed by your application.
Username:
This should be obvious
MSN/Skype:
Again, rather self explanatory
Personality:
Just tell us a little bit about yourself, how you think you act, how you view yourself, and the kinds of things you like/dislike
Previous Clan(s):
All the clans you have previously been in, even those you didn't leave on good terms
What were the reasons for leaving the previous clans?:
Provide as much detail as you feel necessary, and we do ask questions ourselves to double check these things
Were they forced out of any of their previous clans?:
Same as above
If so, why?:
Again, detail is important here, and while you may feel certain reasons for leaving a clan would have a negative impact on your application, lying to us will be much worse if we find out
Have you been warned/banned before on (NB/SB/WoNF)?:
This is important, and know that being warned or banned will not get you excluded from the clan
If so, why?:
Again, it's important, but we're not here to judge, we just want to know what you did for our own purposes, if we believe you are Akatsuki material your past isn't an issue
In your words, why should you get into Akatsuki?:
This one is entirely up to you, go to town and do the best you can!
Highest Level?:
The highest level you have attained across the various seasons
Current Level:
What is your current level this season?
Highest Streak?:
Your best streak thus far in either Arena
Showcase?
Do you have a GFXing showcase? If so, can you link us to it, or provide some examples?
The next stage is Entaglement. A series of private battles to test your mettle in game wise. Akatsuki leaders will appoint members to private battle you, or they might even battle you themselves! You dont necessarily have to win so dont get down if you do lose. ( Gfx applicants skip this stage automatically)
The final stage is Nova Prospekt. We strongly advise you visit our
Xat
during this stage if you haven't already, because this is when the great Akatsuki Leaders deliberate and decide whether you are worthy enough or not. We are inclined to look at personality and loyalty over prowess, so if you have both then you have nothing to worry about.

Congratulations! You are now a member of the prestigious Akatsuki! You will be given your ring and partner in crime, (assuming theres one available) and may now live under the humble abode we call Akatsuki.